Table of Contents
Overview
Resume Book Upload enables teams to import multiple candidates at once by uploading a PDF of candidate resumes (also frequently referred to as a "resume book" or a "look book") to a project. Gem will then parse these resumes and create prospect profiles. Resume Book Upload can help save you time from manual data entry, empower accurate ROI tracking of recruiting events, and ensure timely follow-ups with event attendees or students from campus recruiting engagements.
Eligibility
This feature is available to all customers on the Advanced CRM package.
How to use Resume Book Upload
In a project, click Options > Resume book upload.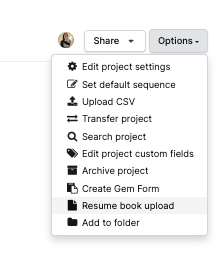 The Resume Book upload flow will surface and you'll be able to select your PDF of candidate resumes from your computer.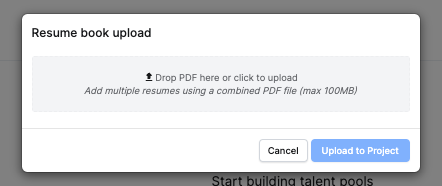 This feature leverages resume parsing to add fields into Gem, including name, email address, phone number, LinkedIn profile, school, current and past titles/companies, and location.
Once your PDF uploads successfully, you'll see a notice at the top of your project page. You'll be able to click the .pdf link to click through the resumes.

You will also be alerted if there are any pages that are not valid resumes (e.g. a table of contents or un-parsable resume).
Limitations
All resumes must be in one PDF file (you cannot upload a folder containing multiple PDF files).
Upload size cannot exceed 100MB.
Have any issues or questions on this topic? Please feel free to contact your dedicated Gem Customer Success Manager directly or our Support team at support@gem.com.