Table of Contents:
Overview
All customers on Teams and Enterprise packages.
Gem reviews a prospect's location, job titles, and employers to finds other candidates with similar characteristics in your CRM. The top (up to 5) are presented on the prospect's Gem profile.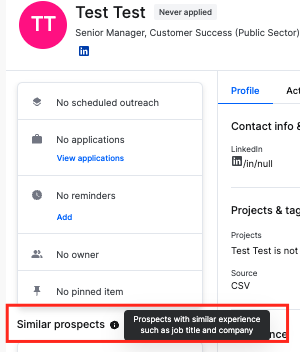 Current Limitations
Similar prospects only show up when the results meet a minimum relevance for Gem profiles. For this reason, there may be profiles that return zero or few results.
It does not include ATS candidates who are not added to Gem.
Have any issues or questions on this topic? Please feel free to contact your dedicated Gem Customer Success Manager directly or our Support team at support@gem.com.