Overview
The Peer Benchmarks feature is built in to Talent Compass Dashboards and allows you to track KPIs against companies with similar profiles.
This includes the benchmark data for "Passthrough rate", "Time to hire", "Time in stage", and "Offer acceptance rate" across >1,400 different slices and different formats. Every benchmark is validated by >=100 data points across 20 or more companies.
The benchmarking categories that you can self-select into to compare yourselves to are:
Company Size

Company Location

Gender

Race / Ethnicity

Department

Industry
Industry Definitions in Gem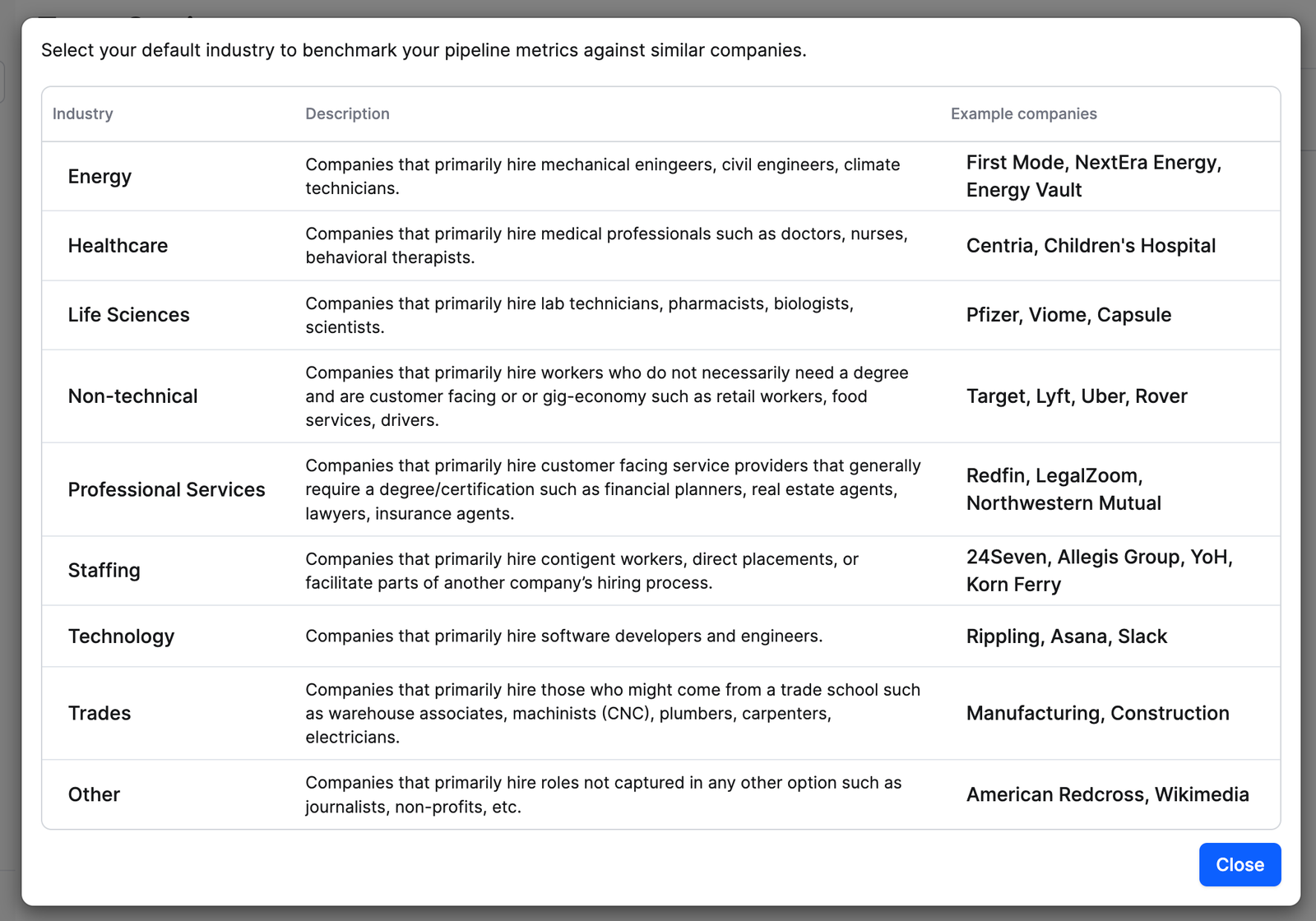 The Formats You Can Use
Average

Percentile (better than X% companies)
Requirements
You must have access to Talent Compass (Pipeline Analytics & Dashboards) Advanced to use this feature. If you don't, you can reach out to your Gem Account Executive or Customer Success Manager to learn more.
Examples of When to Use Peer Benchmarks
When you are setting your own team's targets for the quarter, year, etc.

When you are reviewing your team's performance.

When an executive asks how you are they are doing compared to peer averages.
How to Use Peer Benchmarks
In Gem Dashboards, click "Add widget."

Select "Average time to hire" OR "Offer acceptance rate" from the Widget Library, or select the "Time in stage" OR "Passthrough rate" metrics:





You will then see the "Benchmarks" tab at the top:

Under "Benchmark," select how you want to compare your company data to benchmark (Average or Percentile):

From there, you can self-select any of the relevant Benchmarking categories.
Default Benchmark Selection
If you are a Gem Admin, you can set team-wide default benchmark information for the following:
Company size

Company location
If team-wide defaults are set, they will be used to pre-populate the benchmark settings when adding benchmarks to a new widget.
Please note:
If an Admin changes the values, it will not reflect in existing widgets.

Benchmarks are configured per-widget. Every user looking at the same widget sees the same benchmark.
How to Set Up Team-Wide Default Benchmark Settings (Gem Admins only)
Navigate to the Additional settings tab under the Admin dashboard.

From there, you can make your default settings selections.
DEI Ratios
These benchmarks are available on bar charts showing candidates in one of the three supported stages (Application Created, Offer Extended, Hired), broken down by either race/ethnicity or gender.
The following 6 combinations are possible in bar charts:
Gender ratio at App Created

Race/Ethnicity ratio at App Created

Gender ratio at Offer Extended

Race/Ethnicity ratio at Offer Extended

Gender ratio at Hired

Race/Ethnicity ratio at Hired
Current Limitations
Not every combination of filters will work. You may see the following message in red:
Have any issues or questions on this topic? Please feel free to contact your dedicated Gem Customer Success Manager directly or our Support team at support@gem.com.