Gem's integration with Lever allows you to:
Add candidates to Lever right from the Gem Chrome Extension
Dupe check (does the candidate already exist in Lever?)
See existing candidates in Lever
Additional features (contact your Gem Customer Success Manager or Account Executive to enable):
Change a candidate's stage in Lever from the Gem Chrome Extension
Sync email conversations from Gem into a candidate's Lever profile notes
Requirements:
Setting up the Lever integration with Gem for your team requires that you are a Lever Super Admin, as well as a Gem Admin. You need to use the same email address in Gem that you use in Lever.
Job postings need to be either in the Published state or set to Internal job site in order for Gem to be able to see and list them in the Gem extension.
Gem/Lever Super Admin: Go to your Team Settings dashboard and navigate to the Lever settings tab. You can also access this page at https://gem.com/admin/lever. Under Lever Integration, click Connect Gem to Lever.

All Users: After Step 2 is complete, all Gem users on your team can use the Lever integration within their own Gem extension/sidebar. Each user need to use the same email address in Gem that they use in Lever. See an example below of uploading a prospect to a test posting.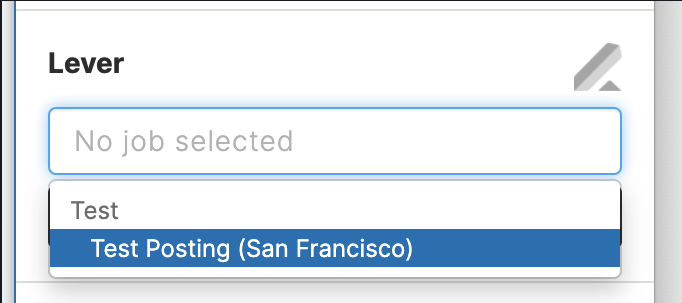 Success! You've integrated your Gem account with your team's Lever instance. Now, you will be able to upload candidates that you've sourced and performed outreach to in Gem into Lever.
Gem will upload the candidate's resume to Lever as well as set the basic candidate profiles fields (name, emails, phone numbers, location, headline, and sourced from Gem origin).
Click here to learn more about how to use the Lever integration.
Have any issues or questions on this topic? Please feel free to contact your dedicated Gem Customer Success Manager directly or our Support team at support@gem.com.