To start, you need to be an Admin to create and/or edit Project Fields. If you're unsure about what Project Fields are, read our short help center article first.
Project Fields are a great way to attribute information to a project to help you organize them and make them more searchable.
When putting Project Fields in place, it's important to understand how projects are currently being used on your team and selecting fields that will help your team stay organized.
We recommend starting with as few fields as possible while meeting the team's needs. Once your team starts using Project Fields, you will likely uncover if you need additional Project Fields -- and that's OK! It will take a few iterations for your team to figure out which fields are necessary and unnecessary.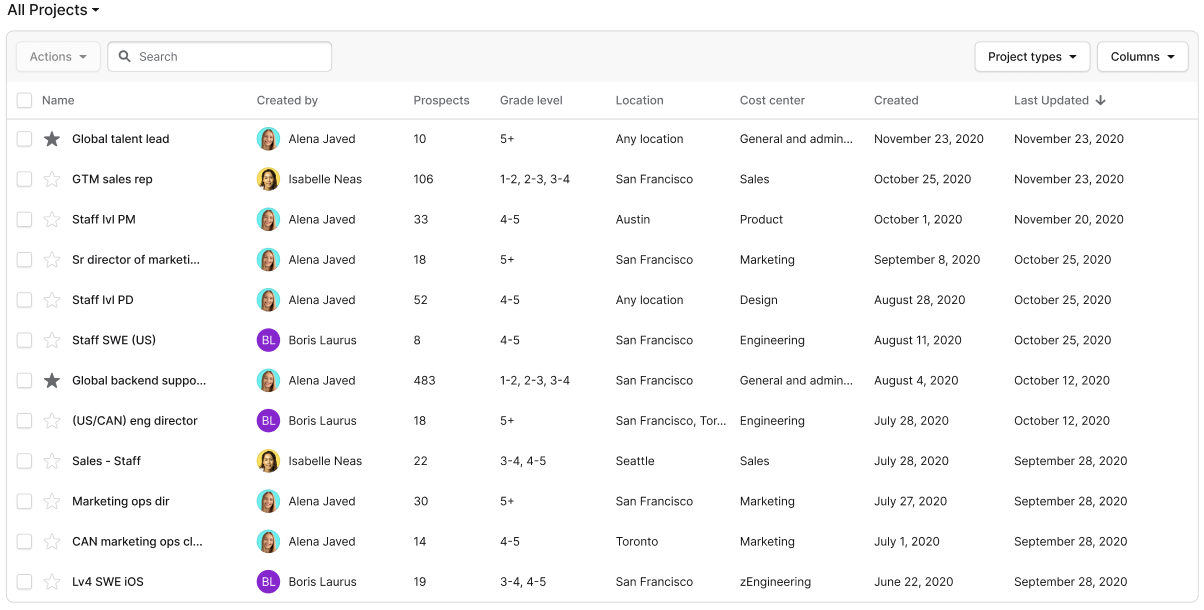 Below are Project Fields we highly recommend as well as a list of optional Project Fields.
Recommended Project Fields and options under each field (all recommended fields should be *required fields.)
Department or Cost Center: [insert all Departments/Cost Centers based on your careers page or ATS]

Project Type: Job, Events, Referrals, Talent Pool, Other

Location or Region (based on the job): [insert all location based on your careers page or ATS]
Additional Project Fields to consider
Seniority: Junior (1-3), Mid (4-9), Senior (10+), Management

Diversity and Underrepresented Groups

Nurture: Silver Medalists, Uncontacted: Save for Later
Have any issues or questions on this topic? Please feel free to contact your dedicated Gem Customer Success Manager directly or our Support team at support@gem.com.