Gem helps to automate email Sequences for candidates, but there may be times where you send an Inmail outside of Gem or message a candidate via a different medium. In those cases, you can still have those metrics tracked in Gem.
We've built the ability for you to manually log touchpoints for candidates that will track over into your Outreach Stats.
You log these manual touchpoints in two different ways:
One-Off for an Individual Candidate

In Bulk from a Project
This article covers what types of Touchpoints you can manually log, how to log touchpoints for an individual candidate, and how to log touchpoints in Bulk.
Types of Manual Touchpoints
Gem provides the ability for you to log three different types of touchpoints:
A logged touchpoint can be designated as:
Initial Outreach: First Touchpoint for a candidate

Follow-Up: Touchpoints that are subsequent to the Initial Outreach

Reply: Candidate response
Logging Manual Touchpoints for an Individual Candidate
You can log manual touchpoints for an individual candidate right from their Gem profile or from the Gem extension.
Outreach: After pulling up the candidate's profile in the Gem extension, press the 'Log Activity' button. Use the dropdown menus to select the Type of activity you're logging, add an optional note, then click "Save activity".

Replies: To log replies to a manual touchpoint, click "Log Activity" and select "Reply". Click on the Type and Reply Status dropdown menus to make your selection and leave an optional note. When you're done, click "Save activity".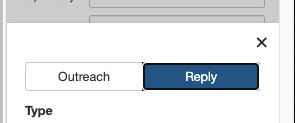 Logging Manual Touchpoints in Bulk
Gem also allows you to log manual touchpoints in bulk from a Projects page.
You can do this by navigating to any project and then using the checkbox(es) next to the candidate's names to select who you want to log manual touchpoints for.
Once you've selected the candidates you'd like to add manual touchpoints for, press the 'More' button and select 'Log Outreach/Reply'.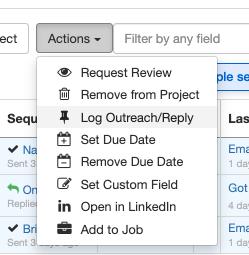 Gem will open a window asking you to select the type of outreach (Inmail, Text, Call) and whether it's a First reach out or Follow-up. You can also select Reply to log this type of interaction, too. (Select Type: Auto if you would like Gem to automatically choose whether it's a First reach out or Follow-up based on previous outreach.
Once you press 'Save activity', Gem will log the touchpoint and you will be able to see it reflect in your Outreach Stats metrics.
Have any issues or questions on this topic? Please feel free to contact your dedicated Gem Customer Success Manager directly or our Support team at support@gem.com.