By using the CSV export feature in Gem projects, it's possible to bulk import people into Greenhouse from Gem.
Export a Project from Gem
People in Gem projects can be exported and downloaded into a CSV file. To do this, navigate to a project in Gem and click on the 'Share' button on the top right of the Project page. Click the 'Download CSV' option. This will initiate a file download of the people in the Gem project.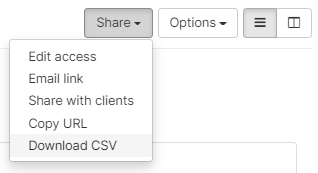 Prepare the CSV for Greenhouse
Open the project CSV file in your preferred spreadsheet application. Depending on the application, you may be asked to select some options before being able to edit the spreadsheet. Generally, the default options can be used.
With the spreadsheet open in your application, you will need to add three columns: Job, Source, and Who Gets Credit. For each column, enter the appropriate values (eg: 'Engineering Manager', 'Entelo', ''), Most spreadsheet applications will allow you easily copy data in a column once you've entered data into a cell. With a cell selected, click the bottom-right corner of the cell and then drag to quickly copy data into each row of the column.
Make sure to save your work before continuing. Choose CSV or XLS as the format.
Upload to Greenhouse
With the spreadsheet prepared and saved, go to the Bulk Import page in Greenhouse. It can be accessed by clicking the 'gear' icon at the top of most pages on Greenhouse and then clicking 'Bulk Import' in the left column.
On the Bulk Import page, click 'Upload Prospects Spreadsheet' and select the spreadsheet file. Follow the remaining steps in the Greenhouse data importer to finish uploading the people to Greenhouse.
Be careful, uploading the spreadsheet may create duplicate Greenhouse profiles. It's recommended you click into each Prospect you upload and merge profiles if there was one.
Have any issues or questions on this topic? Please feel free to contact your dedicated Gem Customer Success Manager directly or our Support team at support@gem.com.