Gem is a powerful solution that has built-in efficiencies to help recruiters optimize their LinkedIn workflow and source more candidates in less time.
This article will cover advanced Gem features that can help you shorten your time to source each candidate within LinkedIn.
Default Sequences
Set a default sequence on a project to automate your workflow alongside LinkedIn. The thinking is that for every project you work on, you will probably have a specific sequence you use and in this case, you can set that sequence to automatically populate for every candidate you source on LinkedIn when you add them to the project.
To set the default sequence for a specific project, log in to your Gem account, and travel to the Projects Tab.
From Projects, select the Project you want to set a default sequence for. After you select that project, you'll press the Options button in the top right and press the "Set Default Sequence" button.

After pressing these options, a window will open and prompt you to select the default sequences for both Email and InMail for the project. From there, you will select the default sequences you want to use for that specific project.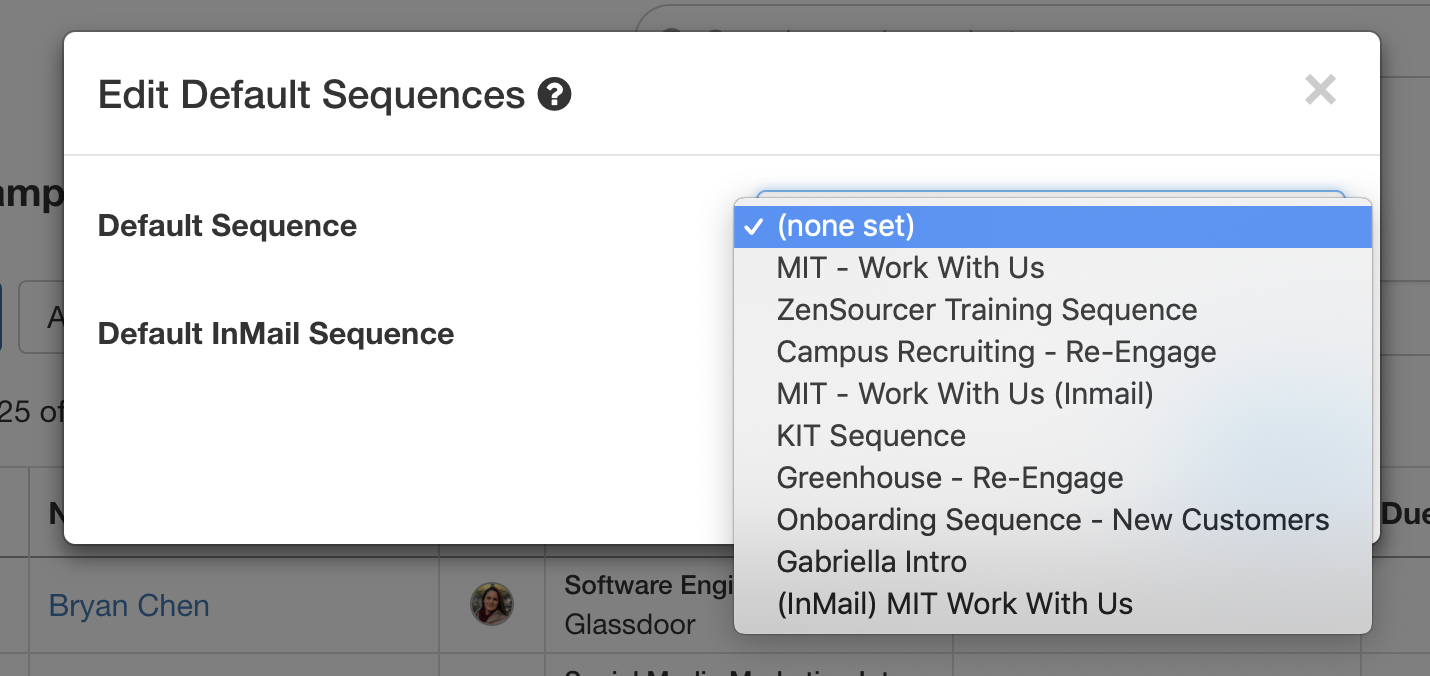 If there is email for a candidate, we will default to the Email sequence a project has selected, but in the case that there is no email for a candidate, we will default to the InMail sequence that has been selected.
Opening Multiple LinkedIn Profiles
From a Gem project, you can navigate to a candidate's LinkedIn profile. There may be situations where you need to open multiple LinkedIn profiles at the same time and this can be done by selecting the candidates from the project table, then clicking "Actions" and selecting "Open in LinkedIn". This will open LinkedIn for each candidate in their own Google Chrome browser tab.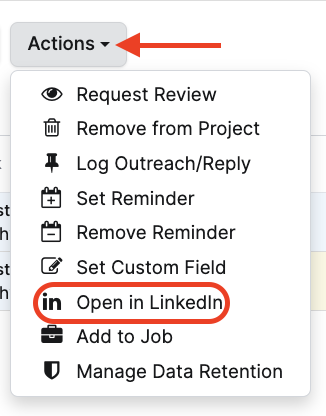 Note: Depending on your computer and network connection limitations, you may see performance degrade in Google Chrome or with the Gem extension if you use this feature to open many LinkedIn profiles at the same time. This is expected and if you run into issues like slowness or freezing, this can be prevented by reducing the number of Chrome tabs or windows that you have open or opening a lower number of LinkedIn profiles at a time.
Auto-Upload to Greenhouse
Another Gem setting that can provide efficiency gains is allowing Gem to auto-upload a candidate to Greenhouse from the Gem Chrome extension.
This feature automatically checks for an existing candidate record in Greenhouse. If one does not exist, Gem uploads the candidate to Greenhouse for you and adds them to the most recently selected Job in the Gem extension. (Note: The sequence has to be sent from the Gem extension and not the Gem web app.)
To turn this feature on, you want to go to your Settings in Gem and check the box to "Upload candidate to Greenhouse when sending Sequence from the extension (if not in Greenhouse)".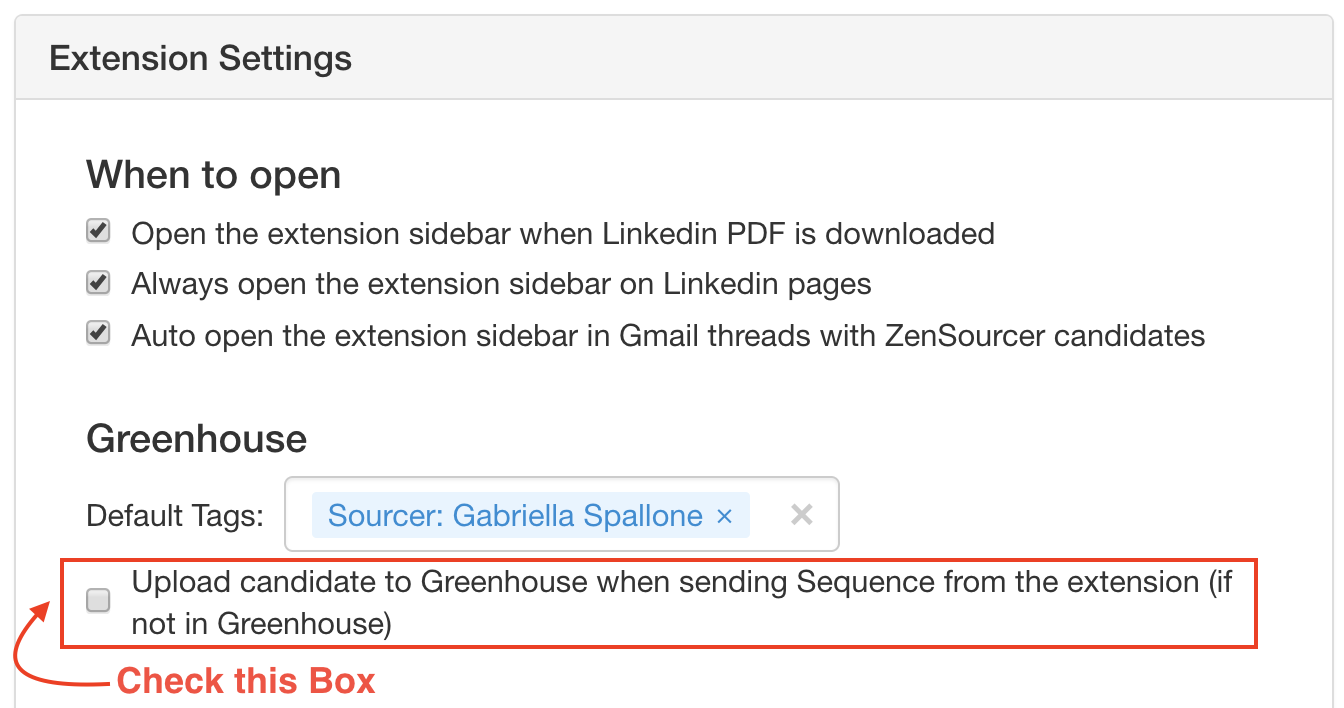 Auto-Populate Jobs in Chrome Extension
Once you start using the Gem extension on LinkedIn and add people to Greenhouse, Gem will start to remember the previous Job you selected in Greenhouse for a candidate based on the Gem project you selected.
This allows you to minimize the number of clicks you need to do in the sidebar to upload someone to Greenhouse.
Putting it all Together
When you put all these features together, it can allow you to minimize the amount of time spent sourcing a single candidate dramatically.
Need help with setting up Gem's advanced features? Feel free to reach out to the Gem team by emailing us directly at support@gem.com or press "Chat with Us" in the Gem home page.