Here are best practices compiled from all our partners on the different ways we can leverage Gem projects to nurture talent pools.
Individual Talent Pools: Projects
As a best practice, we recommend individual recruiters and hiring managers create a personal talent pool for each req they're sourcing for so they can:
Have one place to check passive pipeline for each open req.

A/B test different outreach content to see what works.

Revisit due dates on talent that expressed interest in reconnecting later.

Run a calibration session by submitting the project for review to a teammate.

Share a link to the talent pool with a HM or their manager, so they can have visibility.

Revisit the project to send a keep in touch message to folks 3-6 months down the road.
Team-Wide Talent Pools: Shared Projects
Having each recruiter engage with their individual talent pools may not always be the most efficient way to engage with large volumes of talent at scale. For this, we recommend creating team-wide talent pools.
Evergreen Skillsets or Personas
We recommend standardizing on a set of talent pools based on evergreen skillsets or hiring personas -- essentially, skill-sets that you're always hiring for. Depending on the size of your company, you may want to pick a few to start or up to 10-20. For example:
Enigma, a Series C "Data-as-a-Service" company has two team-wide talent pools for SWE and Data Science

Dropbox, has 10-15 on engineering alone, including mobile, frontend, security, machine learning, etc.
The important thing is to have clear definitions for each skillset, so the entire team knows who to add to which pool. Here's a best practices guide on how to create and organize team-wide Talent Pools.
Other Attributes (e.g. diversity, location, company)
As part of the CRM, you can search your talent pools for most other attributes -- work history, edu history, location, yrs experience, gender, types of touchpoints, whether they responded etc. This means we don't need to create talent pools for most attributes.
For example, if we have a "security engineering" talent pool, there's no need to build a talent pool for "senior, female, security engineers in Seattle". We can just filter the "security engineering" talent pool by gender, years of experience, and location.
Engaging with Team-Wide Talent Pools
Consider establishing a point person on the team who's responsible for collecting interesting content for each pool. Create a sequence per piece of content and publish it to the team. Here are some ideas:
Events that we're hosting

When we're in a specific certain city for campus recruiting or conferences

Engineering blog posts

Positive press, such as fundraising announcements, exec hires, partnerships, product launches, etc.
Then, once per month, have each team member copy each nurture sequence for pools they're responsible for and identify folks we should re-engage with using Gem search. The default search filters are preset to surface only those who are safe to reach out to:
Last contact more than 3 months

No due date set

Greenhouse activity more than 3 months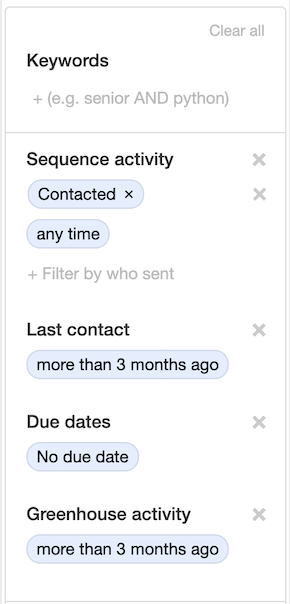 Get even more granular by filtering on additional fields, such as:
Location if we're hosting an event or visiting a city.

Gender if we published a blog post by one of our female tech leads.
Other Types of Talent Pools
The other way to think about talent pools is to organize around recurring ways that we want to engage with talent.
For example, Segment hosts an engineering conference once per quarter (SegFault), and maintains a shared project of everyone they've invited so they can invite the same people each quarter.
University Recruiting is another great example. Consider creating a talent pool for students that you were interested in in the fall, so you can re-engage with them before coming on campus next Spring and in future years.
Talent we've considered before, so that we can have a consistent strategy around engaging with these folks.
Silver medalists, candidates that fell out of process, former employees, former interns.

For now, this will be a bit of a manual process. Over time, we'll let you configure rules that automatically add people to talent pools and automatically queue up a sequence.
Have any issues or questions on this topic? Please feel free to contact your dedicated Gem Customer Success Manager directly or our Support team at support@gem.com.