Some staffing agencies, contractors or consultants may have their own Gem account associated with their agency/consultancy email address, but want to send on-behalf-of messages via their client email address. Gem easily supports this option--just follow these steps.
You're going to need multiple Gem accounts, and you're going to need to be logged in to two different email accounts. The best way to do this is by using Chrome's "People" option:

Using this function you can be logged-in to as many different Google accounts as you want simultaneously. Essentially, you can create multiple Chrome profiles and use them at the same time (in different browser windows).
For example, this user is logged into three different accounts and can toggle between them (or open them simultaneously in different browser windows) in the People dropdown: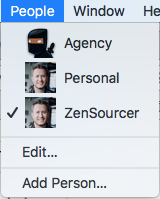 Once you're logged-in to your agency email in one browser window and your client email in another--make sure you are logged-in to Gem in both windows using each of those email accounts. If you need to create a new Gem account in either case, do that by visiting www.gem.com and clicking "Login" at the top right of the page.
Then, from the Gem account associated with your agency email address, go to your Settings and click "Add Account" to request access to send from your own client email address:

You can now send a sequence from your client email while logged-in as your agency email account.
Have any issues or questions on this topic? Please feel free to contact your dedicated Gem Customer Success Manager directly or our Support team at support@gem.com.