Table of Contents:
Overview
With Gem, you can send email sequences on behalf of (SOBO) a teammate and we've found that doing so as a Hiring Manager has been shown to improve response rates by 2x.
When sending on behalf of a teammate:
You will set up the message templates and schedule, but the emails will be sent directly from your teammate's inbox.

Candidate replies will go straight to your teammate's inbox and they will continue the conversation.

You can still monitor the state of the sequence, will be notified when a candidate replies, and track the performance of the sequence on your Outreach Stats page.
Note: If you prefer to be in control of the correspondence yourself after a candidate replies, using a Gmail Alias or setting up a separate email account that poses as your teammate might be a better fit for you.
Access & Permissions
In order to send emails from your inbox, Gem needs to integrate with your email account. To do so, we will ask for the following permissions:
Send - This is required for our Sequences feature in order to send emails as you from your inbox.
Read - This is required for our Sequences feature in order to detect when a candidate reply was received, which allows us to automatically stop further automated follow-ups from being sent.
Delete - This is required for our Open Tracking feature, which tells you when a candidate has opened one of your messages. Delete access is necessary to ensure that your own message opens as the sender are not counted.
Setup
Click below for your set of instructions:
Sending on behalf of a teammate
Go to your Gem Settings page.

Under "Sender Settings", click "Add Account".

Input your teammate's email address.

A request for approval will be sent to your teammate via email.

Once approved, the email address's status will show "Authorized" and you will be able to select the email address when creating/editing your sequences.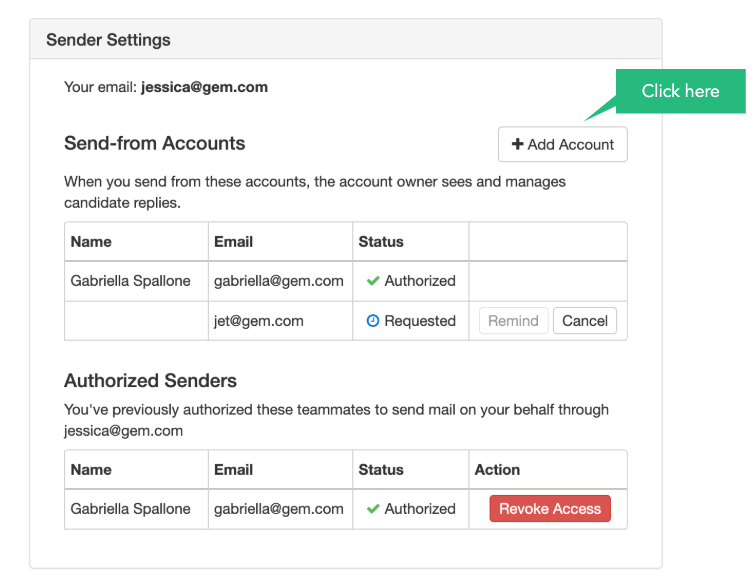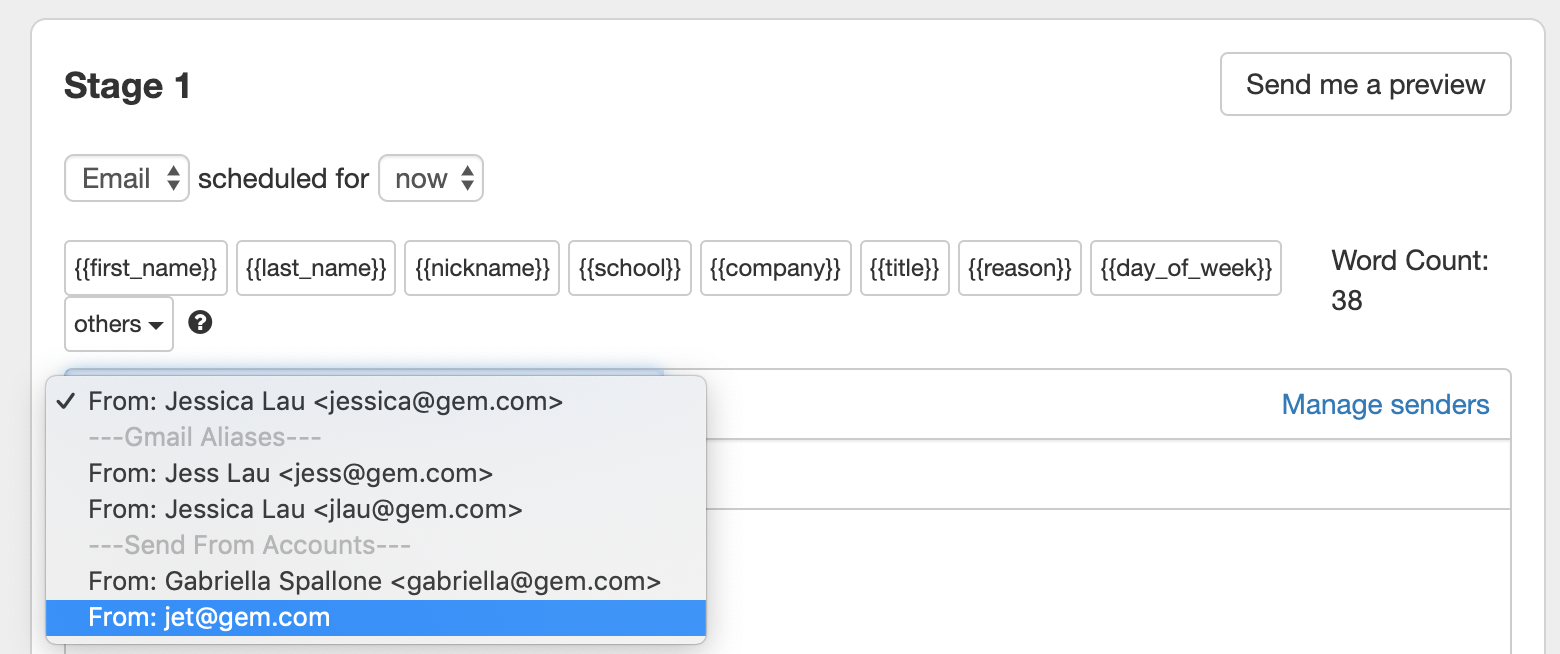 Allowing a teammate to send messages on behalf of you
Your teammate must first complete the steps in the section above in order for you to continue. This will send you a request for approval so they can send messages on your behalf.
Once their request has been sent, you will have 2 ways to authorize it:
You can go to your Gem Settings page, look under "Sender Settings", and click the "Authorize" button next to their email address, or...

Click on the "Review request" button that was sent to you via email.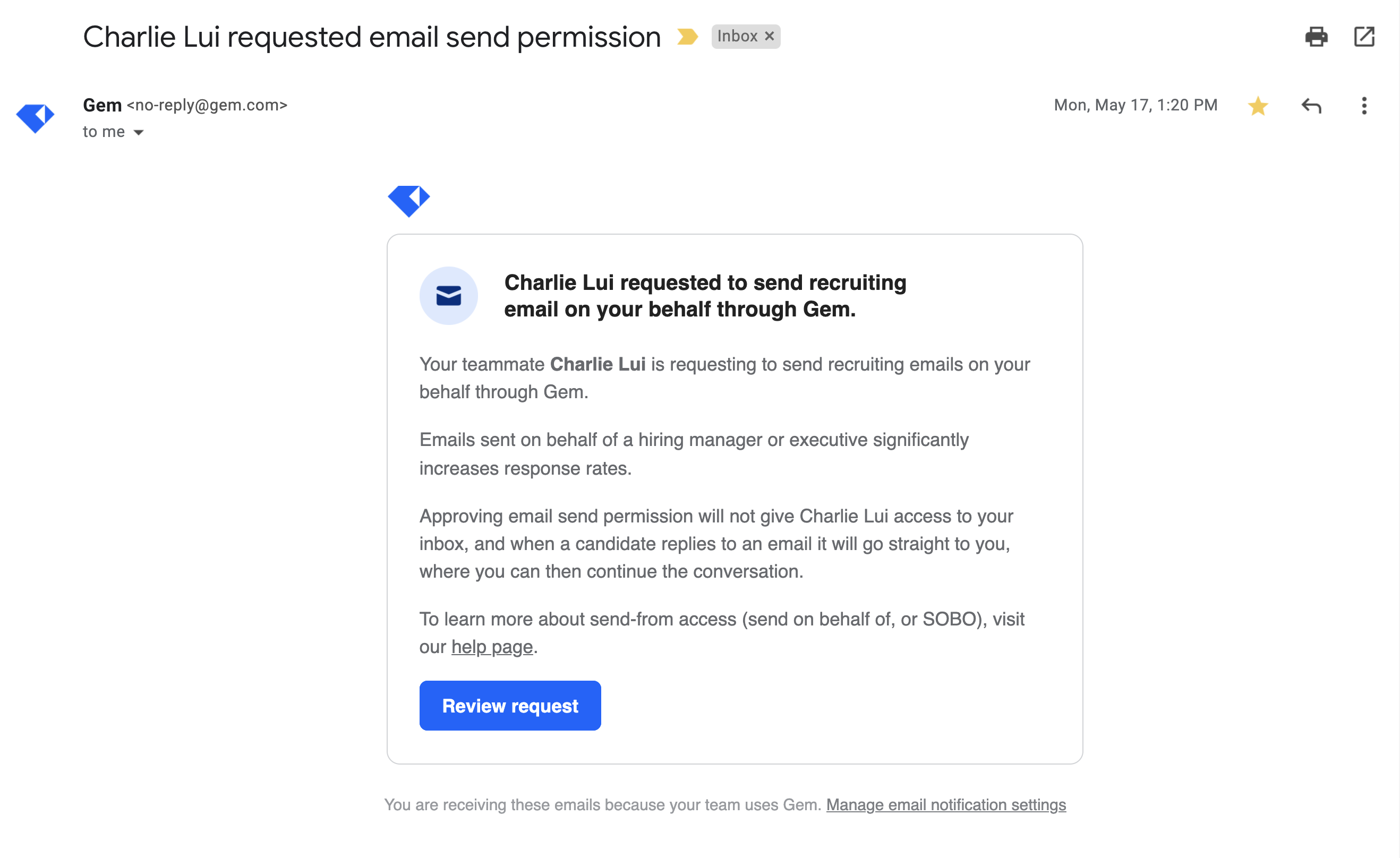 If you wish to revoke their access at any point so that they may no longer send messages on behalf of you, this can be done from your Gem Settings page.
FAQ
Q: I have clicked the button to approve of my teammate's request and give them access, but they are still waiting for my authorization?
A: This may be due to Gem losing connectivity to either one of your email accounts. To resolve this, both of you can go here to log back in and reconnect Gem with your email account and then try again.
Q: Does this feature only work with email?
A: Yes, the send-on-behalf-of feature currently only works with email sequences. It is not supported with InMail or Text Message sequences.
Q: What if I want to send messages as my teammate, but handle communication myself when a candidate replies?
A: If you use Gmail, you can set up an alias that appears to be your teammate on your own email account. Learn more about how this works here. We do not currently support aliases in Outlook.
Q: Can I send emails on behalf of a Google Group email address?
A: Yes, but the Google Group email address will need to be added to your own Gmail account as an alias. Click here to learn more about Gmail aliases and how to use them in Gem.
Q: What if I want to send emails from a different domain?
A: You can only send messages from email accounts on your own domain. If you work for a staffing agency or your team owns multiple domains, please contact your Gem Account Executive or Customer Success Manager for guidance.
Q: If I want to send emails on behalf of a hiring manager, will they need to have a Gem account?
A: When a SOBO request is received, the recipient is prompted to log into Gem and approve the request; If they don't have an existing Gem user account, the login process will create a new Gem user account for them.
Please note: once added, new users will have the default access level and DEI permissions that your Gem Admin has configured in Team Settings.
If these new users are only being used for SOBO purposes, they will not count toward your seat utilization. Please contact your Gem Account Executive or Customer Success Manager if you have additional questions about seat utilization.
Have any issues or questions on this topic? Please feel free to contact your dedicated Gem Customer Success Manager directly or our Support team at support@gem.com.