Overview
Our Campaigns feature allows you to create branded, content-forward messages to send to mailing lists. We've designed this feature to cater to talent marketing and employer branding needs so that you can create and send curated email campaigns to your audience. You'll be able to do multi-stage scheduling and see analytics such as:
Individual Campaign: Delivered/Opened/Clicked shown as %, stage-specific analytics
All Campaigns: Average Open/Click rates, List of 'top performing campaigns'
Note: Campaigns are different from Sequences, which are used for highly-personalized outreach to candidates when you are trying to fill an open role. Click here to learn more about Sequences.

Use Cases
Here are just a few things you can do with Campaigns:
Targeted long-term nurture

Talent community building: You can create "talent communities" (talent pools, or mailing lists) by adding a sign-up form to careers page You can embed a Gem form that automatically adds all signups to a Gem project, so that you can then nurture those signups through a multi-stage journey (e.g., 1st stage to welcome recipient to talent community, 2nd stage to update them on recent company news + awards, etc.)

Event invites and follow-ups: You can also send event campaigns that gather invites and follow-up with candidates after (e.g., 1st stage to invite attendees and provide info, 2nd stage on day-of-event about logistics, and 3rd stage to thank them the day after the event)
Eligibility
This functionality is available to customers on the Advanced CRM package.
Setup
Currently, Gem's Branded Campaigns will require the assistance of your helpdesk or IT team to configure as part of a one-time setup process.
To gain access to Gem's Branded Campaigns, contact your Gem Customer Success Manager and provide the subdomain you would like to use for sending Campaigns. (We recommend recruiting.example.com. For example: recruiting.gem.com for the Gem team.)

After reviewing your subdomain, we will provide you with TXT, MX, and CNAME records that your helpdesk/IT team will need to set up on your company's DNS provider.

Once your team has set up the records, we will enable the Campaigns feature for your team.
Using Campaigns
Notes
To prevent getting your messages marked as spam, we recommend warming up your subdomain for email sending. To do this, start with a small campaign (ex. 100 recipients or less) before sending out larger ones.

After creating a campaign, you can share it with other members of your Gem team under the "Edit" menu. These are the available privacy settings:

Public - The campaign is discoverable and viewable by everyone on your team, but only modifiable by people you've set as collaborators.

Private - The campaign is only viewable to people you've set as collaborators.
Collaborators on your campaign can also be assigned different access levels:

Design only - These individuals can edit the subject and design of the campaign, but will not be able to modify other parts or launch it.

Full access - These individuals will be able to edit almost every part of the campaign, with exception to removing you as the owner.
Instructions
Have a Gem Project ready that will be the audience for your campaign. Learn more about Projects and how to create them here.

Go to your Campaigns page.

Click "New Campaign" in the top-right corner of the page.

Fill in the required fields on the resulting menu. "One-off" messages are sent to the list of recipients at the specified day and time, whereas "Continuous" messages will be sent to all who are added to the projects associated with the recipient list going forward, until the campaign is stopped.
Once you create your Campaign, these features will be available: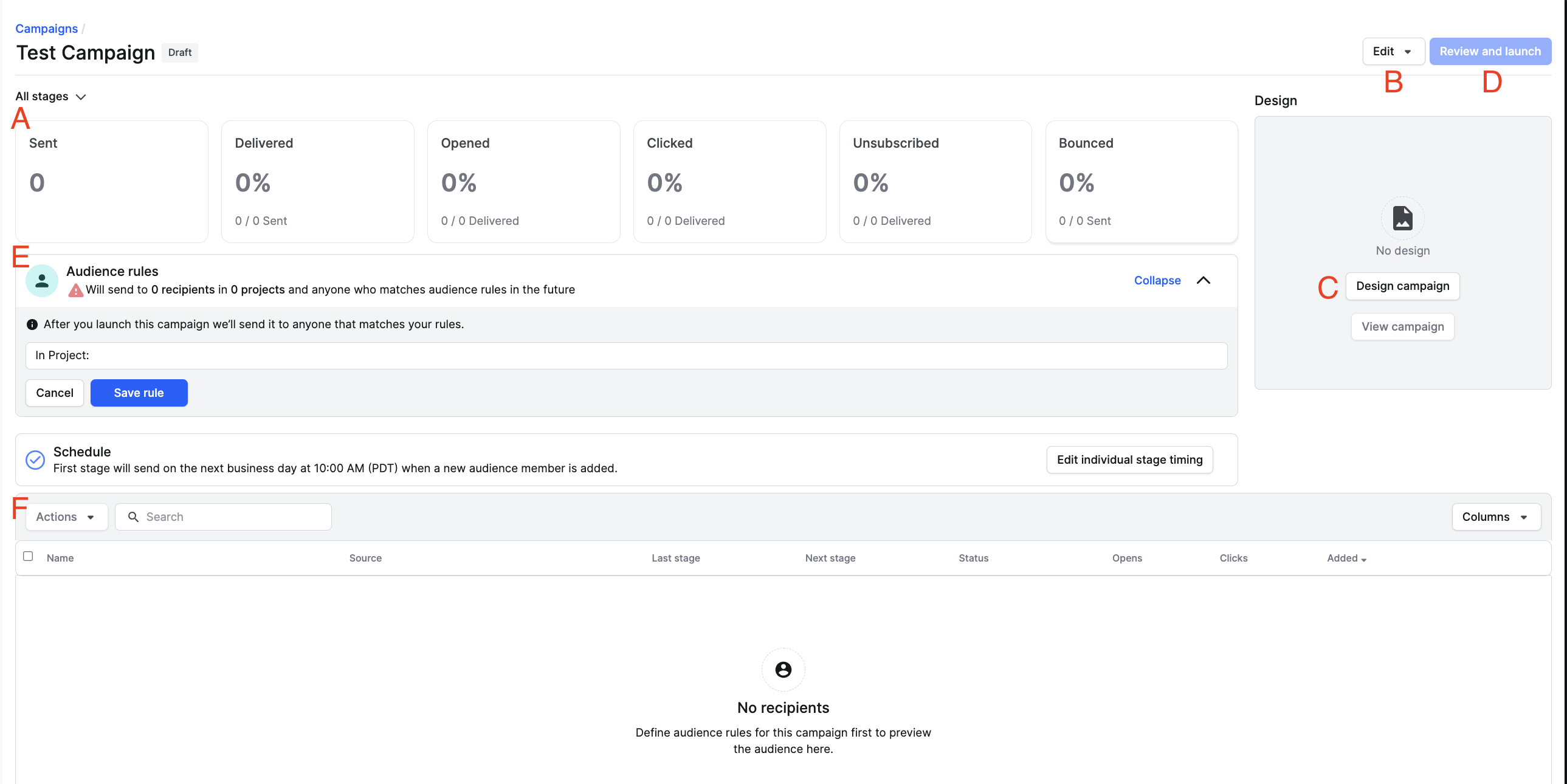 (A) Campaign summary stats - See stats about your campaign, such as number of recipients, how many messages were sent, open rate, etc.
(B) Edit - Share and update your campaign's internal name, external email subject line, and other high-level details.
(C) Design - Design your campaign using our in-app, drag-and-drop editor. Use the menus on the right side of the page for "Content," "Blocks," and "Body" to customize your message content, layout, call-to-actions, and overall style. You'll also be able to add stages & send times for each stage
(D) Review and launch - See a summary of your campaign's audience and final confirmation before setting the campaign live.
(E) Audience rules - Select the Gem Projects you'd like your campaign to be sent out to.
(F) Campaign summary table - See your recipients and their Campaign stats. You can use the search bar to look for a specific recipient and the Columns button to organize the table.
Have any issues or questions on this topic? Please feel free to contact your dedicated Gem Customer Success Manager directly or our Support team at support@gem.com.