The strongest diversity hiring initiatives begin at the top of the funnel, before prospects even apply. Most channels (eg referrals and inbound) can be less diverse, so if you're not actively sourcing and nurturing a diverse talent pool, you may not see a diverse pipeline, a diverse set of interviews, or a diverse team. It's hard to assess the effectiveness of diversity-focused hiring strategies and fix potential problems in the hiring funnel without being able to measure diversity from the very beginning of the hiring pipeline. Our goal at Gem is to help teams track and analyze those efforts.
How do I use this information?
Gem offers race/ethnicity insights for talent teams to track how their work affects racial/ethnic diversity through the recruiting funnel, from first outreach through conversion to hire. Use these insights to:
Catch whether certain groups are disproportionately dropping out of the funnel at a certain stage
Forecast how many reach outs are needed to convert one underrepresented hire
Understand via top of funnel metrics why the team did or did not hit diversity hiring goals
Inform hiring managers about diversity breakdowns in historical data
View difference in pipeline between focused effort on diversity vs sourcing through unfocused methods
See whether initial outreach is alienating a specific population
In Gem's Outreach Stats, talent teams can view how their efforts are faring across different racial/ethnic groups, from first touch through to replied, interested, and even converted to process. Greenhouse customers with Pipeline Analytics enabled can analyze conversion rates through the funnel for the same racial/ethnic groups, and even secondarily group by gender or other attributes.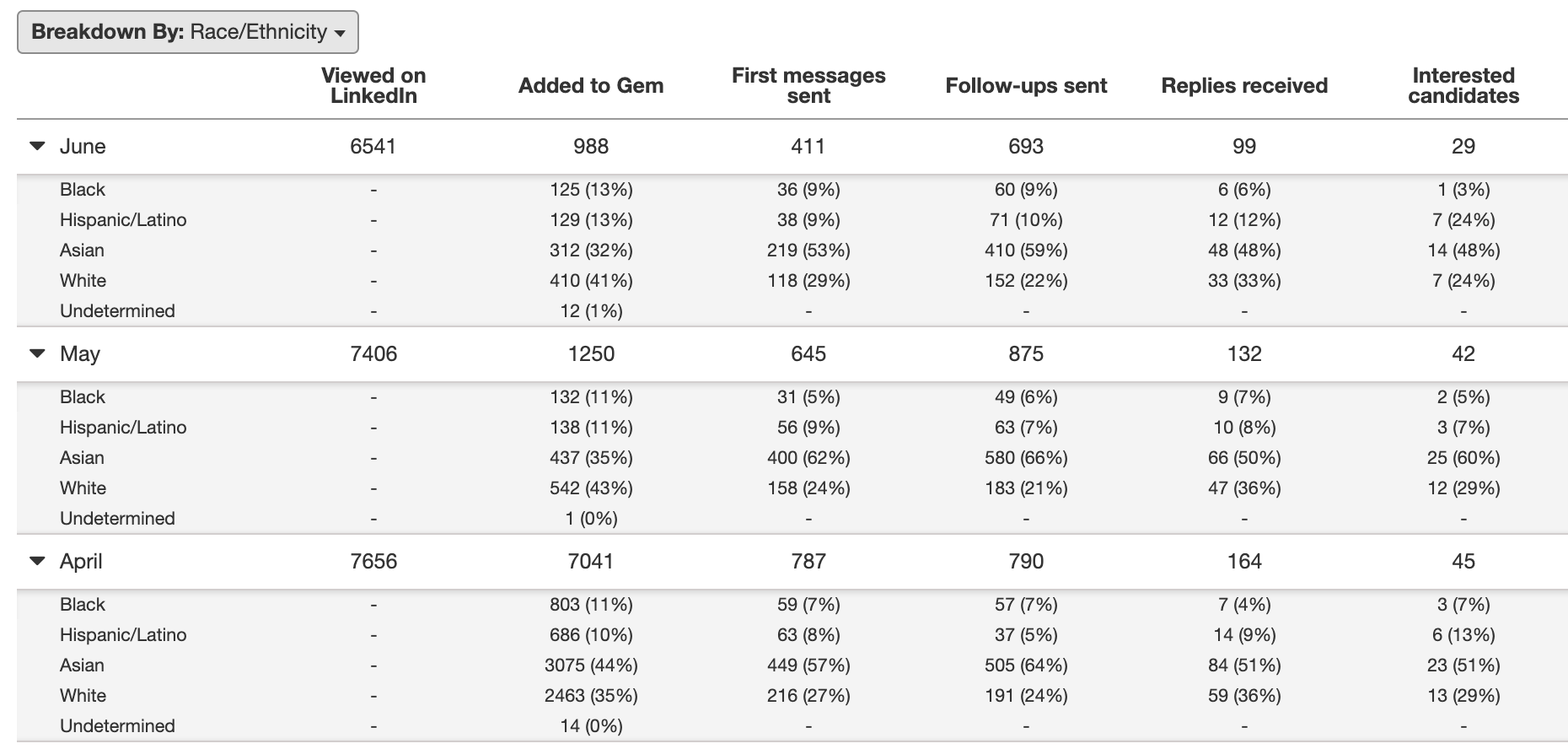 This kind of information can shed light on whether teams are reaching out to a diverse talent pool to build a diverse pipeline, or whether there are systemic biases that might show up as some segments of candidates get stuck at certain stages of the funnel, or don't even respond to outreach to begin with.
How does Gem get this data?
Prediction is determined by a candidate's first and last name in Gem via a model trained on large datasets. You can expect our race/ethnicity accuracy in the range of 75%-95%, determined using confusion tables with large datasets of self-ID (for example, US Census data, among many other global datasets). Gem's race/ethnicity diversity is broken into four categories with one undetermined category: Asian, Black, Hispanic/Latino, White, and Undetermined.
Import Self ID from your ATS
Currently, Gem supports importing self-identification data from Greenhouse. If you collect self ID data with Greenhouse's EEOC form, you can grant Gem permissions so you can overwrite predictions in Pipeline Analytics. Ask your CSM for more information.
Note: Enabling EEOC requires a specific Harvest API Key permission that may not have been provided when setting up your Greenhouse integration. You can read more about how to grant this permission here.
Why is this data shown in aggregate?
Because this information is for directional guidance on pipelines rather than tracking candidates on an individual basis, race/ethnicity predictions will be viewable only in aggregate in Outreach Stats and Pipeline Analytics. The race/ethnicity prediction will not be displayed on the candidate profile, and is not editable. Aggregate stats are not visible if the sample size is too small.
Please note, however, that race/ethnicity can be displayed on individual profiles and is editable for Full Permissions.
How can our organization set user-level permissions?
Once enabled, the default Race/Ethnicity permissions setting is set to "Hide" for all users. Gem Admins will need to go to the Team Settings dashboard to surface this feature on a per-user basis.
For each user, the options are Hide, Analytics only (view in Pipeline Analytics and Outreach Stats in aggregate), and Analytics + Manual ID (view in Pipeline Analytics and Outreach Stats, view and edit on the profile).

How does Manual ID work?
If an admin has set a user permission to "Manual ID," this user can edit race/ethnicity on a candidate profile, unless the candidate has self-identified. If a candidate has self-identified their race/ethnicity, the value will be obscured on their profile as "Self ID" and will not be editable. The value can be seen in analytics on aggregate.
Admins can select which races/ethnicities their organization wants to manually identify in Settings.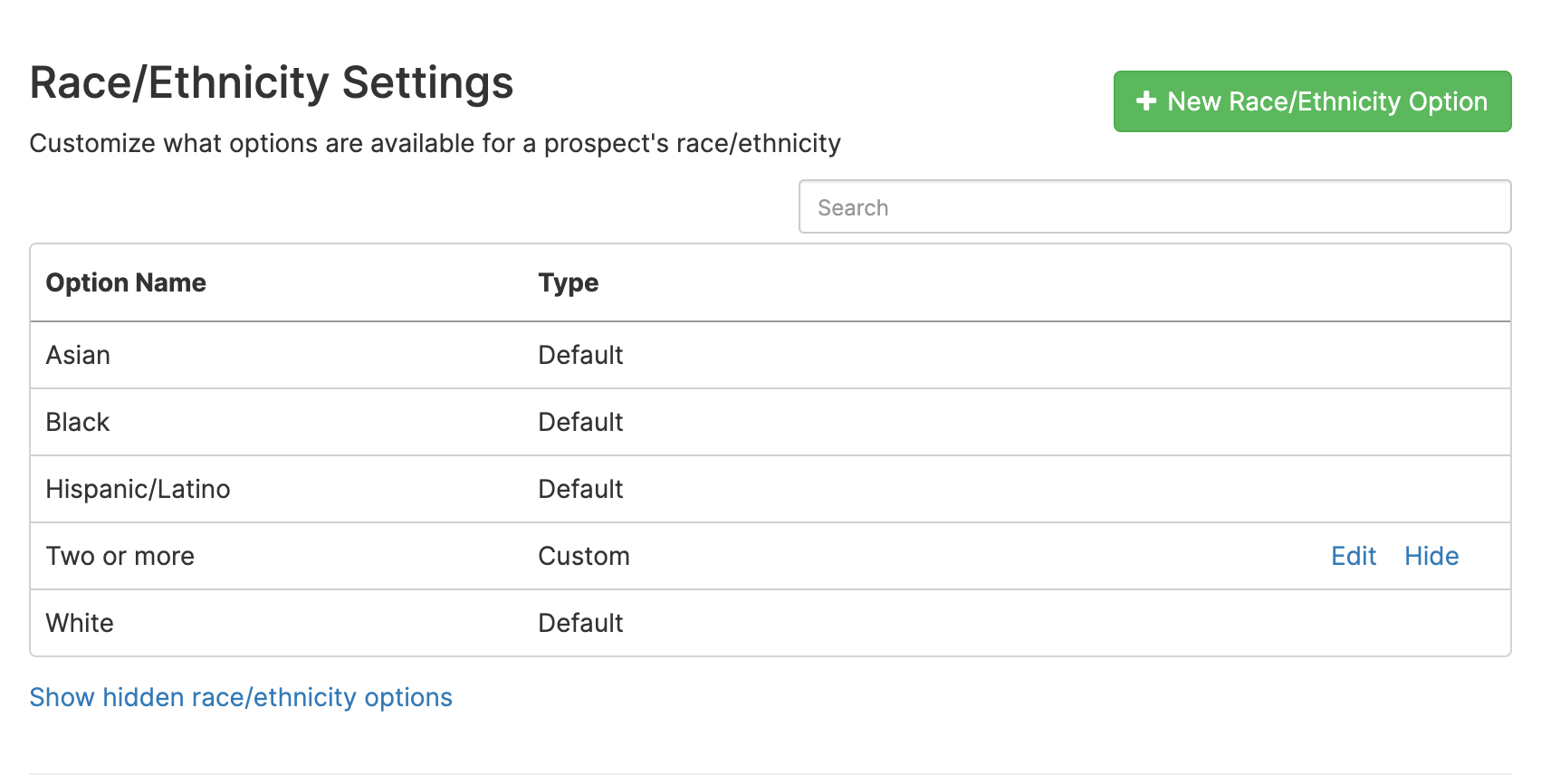 Have any issues or questions on this topic? Please feel free to contact your dedicated Gem Customer Success Manager directly or our Support team at support@gem.com.