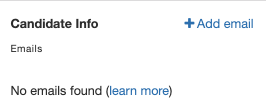 When uploading a candidate to Gem, we will perform an automatic email address search for you using our primary data providers. This will result in at least one found email address most of the time.
If the search is successful, you will see an email address appear in the Gem sidebar. If not, you will see an "No emails found" message.
Note: Customers who have Gem's Premium Email Finding feature can perform an additional search by clicking "Find premium emails". (For more information on this, contact your Gem Account Executive or Customer Success Manager.)
Factors that can prevent Gem from finding an email address:
Digital footprint - Some individuals have a larger online presence than others.

Industry - Some industries naturally have more easily accessible email addresses than others.

Geographic location - Some countries or regions may see higher email finding rates than others.
While we will always strive to find you the highest quality email addresses and offer best-in-class searches, please note that email finding is just one of the value propositions that Gem provides.
Have any issues or questions on this topic? Please feel free to contact your dedicated Gem Customer Success Manager directly or our Support team at support@gem.com.