Table of Contents
Overview
Talent Pipeline allows you to see all of your active candidates in Greenhouse at a glance. It is a kanban board that shows every job that you are on the Hiring Team for (Recruiter, Hiring Manager, or Coordinator) in Greenhouse. Each job will also show candidate cards underneath their respective Greenhouse stages and indicate their current status.
Requirements
To use Talent Pipeline:
Your ATS is Greenhouse. (Please stay tuned for support with other ATSes!)

For access, please contact your Gem Account Executive or Customer Success Manager.

A Gem Admin on your team has set up the Greenhouse Harvest API key in Gem and has configured Gem webhooks.
Main Features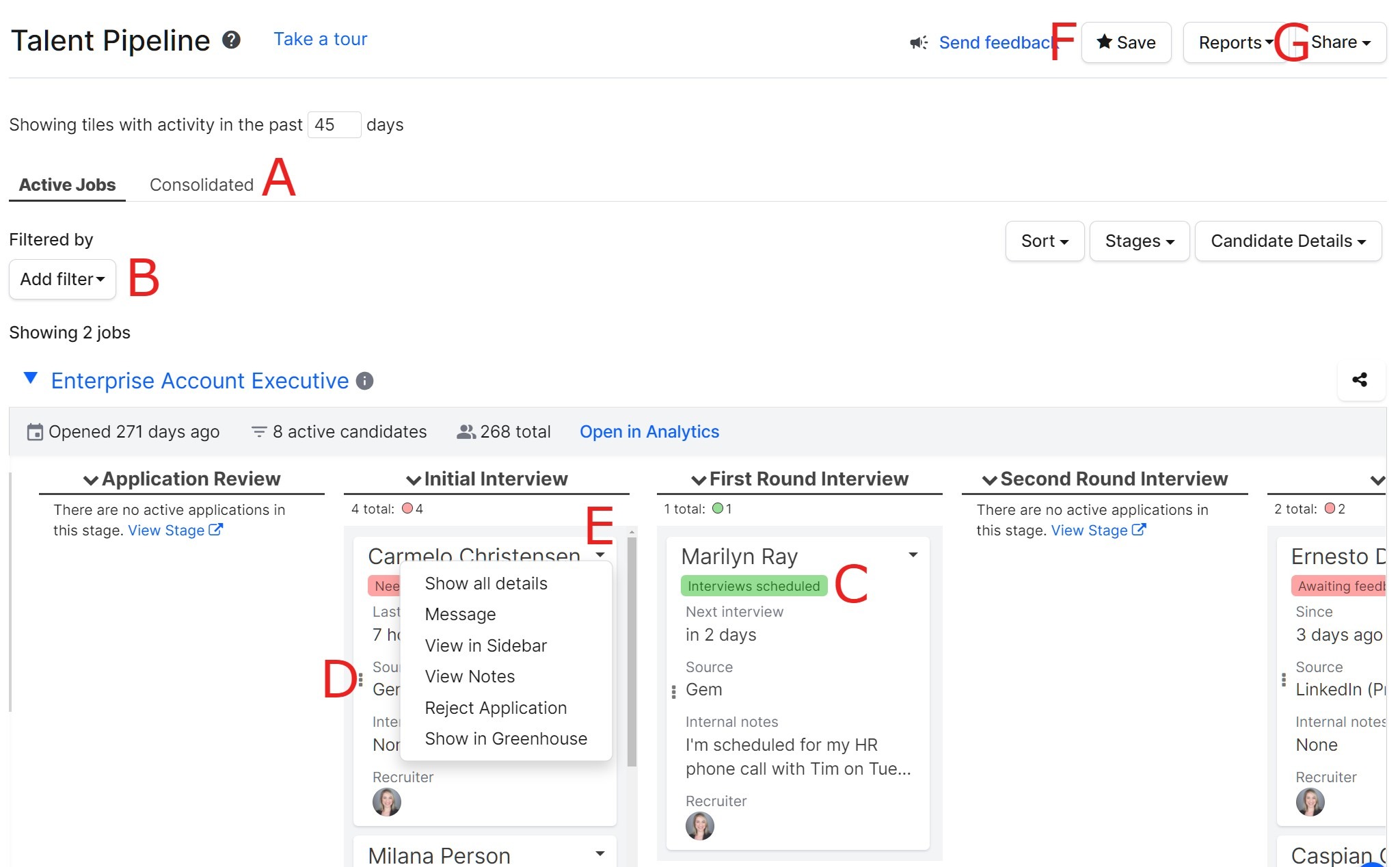 (A) Active Jobs vs Consolidated views - Pick your view at the top of the Talent Pipeline page. Active jobs shows you all candidates, separated by the job they are in. Each job will show it's own set of stages. Consolidated view shows you all candidates in any job and rolls them into one set of stages. More info on this here.
(B) Filters - Add filters to your report to narrow down your results. Please let your Gem Customer Success Manager know if you don't see a filter you that you need.
(C) Color coding - Click here to learn more about our status and SLA indicators.
(D) Click-and-drag candidate cards - You can click-and-drag candidate cards to progress candidates through your pipeline. This will also reflect in Greenhouse.
(E) Rejecting candidates - Click on the black down arrow next to a candidate's name to reject their application. You can select the rejection reason and send a rejection email (if already set up in Greenhouse). The rejection will also reflect in Greenhouse.
(E) Message candidates - Click on the black down arrow next to a candidate's name to send them an email. (If they do not have an email address in Gem, this option will be greyed-out.)
(E) See scorecards - If you are a Greenhouse Site Admin, Site Admin (for jobs you have access to), or are a Hiring Team member for a job, you will be able to see scorecards in Talent Pipeline by clicking "Show all details". (If you are a Job Admin or a Hiring Team member, you will only be able to see scorecards for jobs you have access to in Greenhouse.) Greenhouse basic and "Interview" users will not be able to see scorecards.
(F) Saving reports - Save your report so that you can quickly pull it back up in the future. It will be listed under your Reports page.
(G) Sharing reports - Share your report with others on the team. Learn more here.
Other Features
Hiding stages - By clicking "Stages", you can hide (or show) specific stages in your Talent Pipeline report. This setting will persist if you save your report or share it via email or Slack.
Sorting candidate cards - You can sort candidate cards within each stage by clicking the "Sort" button.
See rejected candidates - In the "Active Jobs" view, click on the "i" next to a job name to show rejected candidates on the job. In the "Consolidated" view, click "Show rejected candidates" on the left side of the page.
Job analytics - In the "Active Jobs" view, click "Open in Analytics" underneath a job name. This will open a Pipeline Analytics report that filters on the job.
Job details - Hover your mouse cursor over the "i" next to a job name to see details about the job.
Gem & Greenhouse Data Sync Intervals
Click here to see how often your actions in Greenhouse sync to Gem.
FAQ
Q: Why can't I see a job or candidate in Talent Pipeline?
A: Gem respects Greenhouse permissions when deciding what to show, so it is likely that you do not have access to the job or candidate in Greenhouse. Or, the candidate may be set to Private (see question below).
Q: Who can see private candidates in Talent Pipeline?
A: If you are a Job Admin with the Private user role OR if you are a Site Admin with the "Can view/edit private candidates" permission. (For the latter, you will need to inform our team if you have this permission so that we can update your permissions.)
Q: When using the Recruiter filter, why am I seeing more jobs listed than I am the recruiter on?
A: The Recruiter filter will show you jobs that you are set as the Recruiter on, but will also show you candidates that have you listed as the Recruiter on their profile. The additional jobs you are seeing will have at least one candidate (active or rejected) in them that you are set as the Recruiter.
Q: Can Gem users with Limited access perform actions in Talent Pipeline?
A: Yes. Currently, we do not limit a user's ability to perform actions in Talent Pipeline based on Gem user roles. If the user has Greenhouse permissions for the candidate and application, they will be able to see the candidate and take action on them in Gem.
Q: Why do multiple applications show up in Consolidated view for a single person?
A: Talent Pipeline is designed to show candidates, not applications. This means we will display all applications for a given candidate. If a candidate has multiple applications and the filters you are using apply to any of the applications, all applications for that candidate will appear.
Q: What contributes to "Last ATS Activity" time?
A: This shows the most recent of 3 timestamps:
The last ATS activity for a candidate

The last ATS activity for an application

The last completed interview time
All three timestamps are provided to us by Greenhouse, but for the first two, we don't have visibility into what type of activity took place.
Q: What is included in Internal Notes?
A: Internal notes show Gem Notes, so a candidate must be in Gem for this field to populate. (We do not show Greenhouse notes at this time.)
Have any issues or questions on this topic? Please feel free to contact your dedicated Gem Customer Success Manager directly or our Support team at support@gem.com.