Once you start sourcing candidates and sending sequences to them, you'll inevitably run into the case where the email sequence you sent to a candidate has bounced.
This article is designed to walk you through what you can do once an email to a candidate bounces.
Use another Email Address
In the case that you have sourced this person off of LinkedIn, Gem may provide you with multiple emails to reach this candidate at. When sourcing a candidate you would have selected the email address you wanted to send the sequence to. If the sequence sent to that email address bounces, two things will happen: (1) We will immediately stop the sequence at whatever email stage bounced, (2) Under the "Status" column in a Sequence page, the Status will show as "Bounced".

If an email to a candidate has bounced click on the Person icon next to their name in a sequence to pull up their Gem profile in the sidebar.

From the Gem side bar, you can choose a different email for the candidate to reach out them at.

Once you choose a different email, you'll be shown the following prompt and asked if you would like to re-send the sequence to the candidate at the new email address.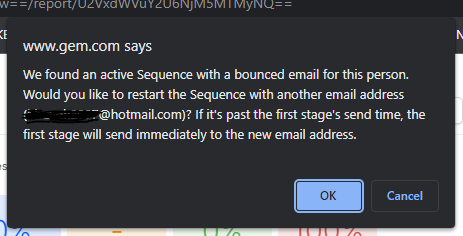 Clicking the "OK" button will immediately send the sequence out to the new email address you've selected.
If you don't have another Email Address
In the case that you only have one email for a given candidate, and the email bounces, you can go ahead and send them a LinkedIn InMail. In order to do this, you can change the Email sequence you currently have to an InMail sequence OR create an entirely new InMail version of your existing sequence that can also be used in the future. Once you do this, you can drop this candidate into the InMail sequence and send them those messages over LinkedIn.
Have any issues or questions on this topic? Please feel free to contact your dedicated Gem Customer Success Manager directly or our Support team at support@gem.com.